THE 4 MAJOR BENEFITS OF NANOBUBBLE TECHNOLOGY FOR ORNAMENTAL AND NURSERY GROWERS
Although greenhouse crop production provides a controlled environment for commercial ornamental crops that can enhance crop quality and yield, growers still face several challenges: managing temperature and humidity; water and nutrient management; pest and disease control; lighting, soil, and substrate fertility; labor costs; and market competition.
Luckily, nanobubble technology has emerged as a chemical-free, cost-efficient, sustainable way to solve many of these problems.
Moleaer clients in the horticulture industry have reported many benefits from the nanobubble system, including healthier plants with more robust root systems and more resistance to pathogens and disease. They also report shorter growing cycles and reduced use of chemical fertilizers.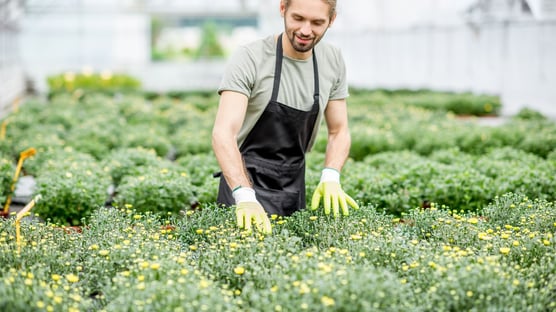 Bart Kouwenberg, head grower at Moleaer's client, Harster Greenhouses, Ontario, is one of those satisfied clients. "Using a Moleaer nanobubble generator led to bigger plants and more root mass. Propagation was also sped up by 10 days and reduced the final weeks of flowering by 10 days," he says. The company also says the nanobubble-enriched irrigation water decreased fertilizer use by 18%.
How Do Nanobubbles Produce Their Beneficial Effects for Ornamental growers?
Simply put, nanobubble technology supersaturates irrigation water with dissolved oxygen and injects hundreds of millions of electrochemically charged nanobubbles, which alters the properties of water.
Increased dissolved oxygen levels maximize oxygen utilization by plants and beneficial microbes in the rhizosphere, promoting healthy root development and improving plants' resilience to environmental stressors such as drought and heat.
Nanobubbles are tiny bubbles 70-120 nanometers in size, or 2500 times smaller than a single grain of salt. Due to their small size, nanobubbles exhibit unique beneficial properties, such as stability, surface charge, neutral buoyancy, and oxidation, which improve numerous physical, chemical, and biological processes.
High concentrations of negatively charged nanobubbles reduce the surface tension of water and improve infiltration of soils and substrates as well as improve the capillary action of dissolved nutrients – a low-cost, synergistic input to reduce soil compaction and high salinity. Nanobubbles also produce a natural, mild oxidant when they encounter contaminants in the water, reducing water-borne pathogens and algae. Their hard, stable shell allows them to abrade biofilm and scale from irrigation systems and coat piping walls to limit new accumulation – improving system hygiene and reducing treatment costs.
Nanobubbles Improve Water Quality in Ornamental Plants
High-quality water is one of the foundations of a healthy plant. It provides a clean and suitable medium for plants to absorb essential nutrients from the soil. Nanobubbles improve irrigation-water quality by removing contaminants, elevating dissolved oxygen (DO) levels, and increasing oxidation-reduction potential (ORP or Redox), the ability of a waterbody to clean itself. Conversely, impurities in the water can hinder nutrient uptake and lead to nutrient imbalances or toxicities, negatively impacting plant growth.
Better water quality reduces the need for chemicals in cleaning and disease control, while simultaneously improving plant health through better root zone conditions. After deploying nanobubbles in their irrigation reservoir, a Moleaer client, Prominent Grevelingen, a large greenhouse grower in the Netherlands, was able to reduce cleaning with hydrogen peroxide by 50% while seeing improvements in plant health.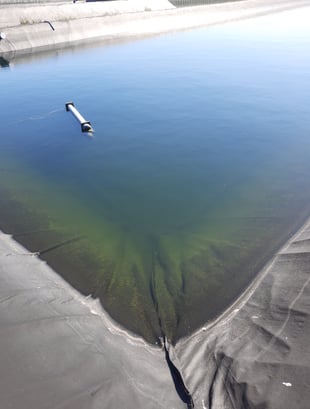 Another Moleaer client, Meewisse Roses, a grower of premium roses in the Netherlands, installed the system to help with the problem of compacted roots that often results from cultivating the plants on rock wool mats. This leads to oxygen-deprived and sickly roots. Meewisse hoped the nanobubbles would ameliorate that condition. After installation, owner Tom Meewisse said, "Oxygen nanobubbles contributed to better water quality, suppression of plant pathogens, and better nutrient absorption."
Nanobubbles Improve Root Health for Ornamental plants
Nanobubbles also reduce the surface tension of water, which increases water infiltration into the root zone and percolation through the plant. Increased water infiltration to the root zone results in more abundant and healthier capillary roots, which are essential for quality plants. These roots aid in water and nutrient transport to the plant, allowing for better plant, flower, and fruit growth.
Nanobubble technology is the most economical and stable way to increase dissolved oxygen (DO) concentrations in irrigation water. Oxygen is essential for the breakdown of sugars and the production of ATP (adenosine triphosphate), which fuels various plant activities. Inadequate oxygenation can lead to root suffocation, impairing respiration, and overall plant metabolism.
Moleaer's nanobubble technology delivers over 85% oxygen transfer efficiency to add supersaturated levels of dissolved oxygen into irrigation water and injects electrochemically charged nanobubbles that deliver multiple benefits. Increased dissolved oxygen levels maximize oxygen utilization by plants, promoting healthy root development and improving plants' resilience to environmental stressors such as heat, while nano-sized bubbles provide an array of additional benefits.
Improved oxygenation also helps to promote healthy microbial activity and suppress root diseases from Pythium, Phytophthora, and Fusarium in substrates and other growing mediums, further enhancing root zone conditions.
Our clients' experiences bear this out. "The oxygen level in the water was much higher when the nanobubbles generator was turned on, and pathogen analyses of the water showed increasingly lower amounts of Fusarium and Pythium," says Tom Meewisse. "Measurements showed that the water from the drippers contained more than 200% dissolved oxygen (100% above saturation), up from 70% of saturation without nanobubbles."
Nanobubbles Reduce Disease through Suppression & Natural Oxidation of Waterborne Pathogens
Nanobubbles suppress the growth of pathogens and algae through efficient oxygenation and natural oxidation. When they come in contact with waterborne pathogens that cause root diseases such as Fusarium, Phytophthora, and Pythium, nanobubbles produce a highly effective mild oxidant. This reduces disease pressure in the root zone, allowing for healthier root growth and less use of chemicals or pesticides to treat pathogens.
This was the result achieved by Meewisse Roses. "Oxygen nanobubbles contributed to better water quality, suppression of plant pathogens, and better nutrient absorption. They achieved notable reductions in Fusarium and Pythium levels and improved calcium uptake by the roots," according to Tom Meewisse.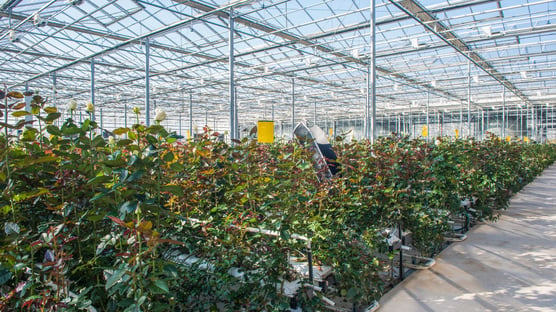 Klondike Gardens, a grower of gerbera daisies and other ornamental flowers for cut flowers in Berkel en Rodenrijs, Netherlands, was using chlorine dosing or hydrogen peroxide in their drip irrigation water as well as disinfecting with a UV unit. Yet they were still losing an unacceptably large number of plants. After installing a Moleaer nanobubble generator and setting up a trial aimed at reducing disease pressure and increasing plant resilience, Klondike was pleased to report that the gerbera plants were more vigorous and had better root development
Nanobubbles Shorten Crop Cycles for ornamental growers
Harster Greenhouses installed one nanobubble generator in their facility to test how nanobubbles improved their potted African violets. Within the first year, they achieved more consistent growing cycles, taking their 7 to8 week average down to 6 weeks.
This led them to install three more Moleaer nanobubble generators. Since then, they have reported several other benefits in addition to the shorter growing cycle, including:
18% reduction in fertilizer inputs
Improved plant resilience to shipping conditions
Not only has Harster reduced inputs, but they are also delivering better quality plants to their distributors. It typically takes 4-5 days to ship plants to their distributors, which takes a toll on the plants. Since Harster has started growing with nanobubbles, distributors say that their plants are arriving stronger and healthier after the multi-day transport.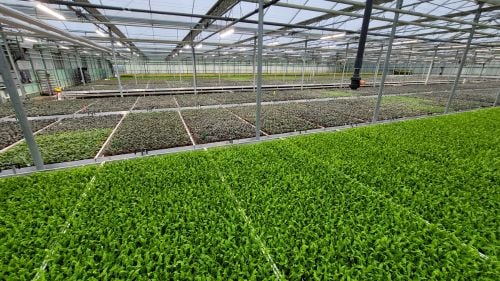 Klondike Gardens credits Moleaer's nanobubble systems for reducing the number of plants it loses after pruning. The company typically harvests its Gerbera daisies; without healthy root systems, the stress from pruning leads to crop stress and disease susceptibility, often resulting in crop loss. To combat this, they dosed chlorine and hydrogen peroxide in their drip irrigation water and disinfected their drain water with UV. Despite their efforts to disinfect the water, they still had an unacceptable amount of crop loss. A few months after starting the nanobubbles, Klondike reported better root development, more vigorous plants, and fewer plants lost to disease.
In conclusion, nanobubbles are an effective, sustainable, non-chemical method of cleaning irrigation water for ornamental plants. Experience and trials have shown that they lead to significant improvements in plant quality and benefits for the growers across many dimensions, including:
Reduced crop cycle lengths
More consistent crop cycles
Less crop loss from environmental and horticultural stressors
More resilient crops during transport
Reduced fertilizer usage
Reduced disease counts
In addition to being sustainable, non-chemical, and cost-efficient, Moleaer's nanobubble generators are easy to install and maintain and come in a broad range of sizes to meet the needs of variously sized water bodies. The generators are mounted on the shore of your lake or pond, recirculating water to continuously inject nanobubbles. This helps reduce algae growth, promote beneficial bacteria, increase dissolved oxygen at the sediment layer, and improve water quality and clarity.