Good soil wettability promotes good plant health and high-quality crops. Nanobubble technology improves soil wettability without the use of chemicals.
What is soil wettability?
Wettability, as the name suggests, is a measure of how well a soil absorbs or repels water. Or in other words, the degree to which it does or doesn't allow water to infiltrate.
Plants need adequate amounts of water to infiltrate to the root zone for healthy growth.
Infiltration rate – the speed at which irrigation water or rainwater moves down into soil. Three factors affect infiltration rates:
Gravity
Cohesion (attraction between water molecules)
Adhesion (attraction of water molecules to a solid)
Water molecules are much more attracted to each other than to soil particles. Even at the best of times, due to its strong cohesive property (also known as surface tension), normal irrigation water isn't prone to infiltrate well into soil, beyond how it's forced to do so by gravity.
Why is soil wettability important?
If soil wettability is low, infiltration rate is also low. Low soil wettability repels water, decreasing water's ability to penetrate the soil surface. Irrigation water or rainwater pools on field surfaces instead of moving downward to the root zone. Much of the water is wasted to evaporation, runoff or both.
Soils with low wettability (they are hydrophobic, phobic of water) are thus a problem for growers of any type of crop.
And although hydrophobic soils tend be coarse-textured and/or sandy, any type of soil can become hydrophobic.
Causes of hydrophobic soils
When microbes break down organic materials in the soil, they create a waxy substance that coats soil particles. This material hinders water infiltration. Hot and dry weather tends to make this waxy residue build up in soils.
Soil particles that are larger (sand) are more prone to being fully coated. When smaller soil particles with more surface area (silt or clay) become coated, the wettability of the soil is lowered.
Other important wettability/infiltration factors include:
How much water is already held in the soil. This is very little to none in periods of drought.
Soil surface roughness
How much organic matter is present
Soil chemical composition
Level of soil acidity or soil pH
Improving soil wettability
Wetting Agents
More traditional means of improving soil wettability include wetting agents. They are mixed with water and applied to hydrophobic soil.
Wetting agents don't increase soil wettability. Instead, they act like surfactants lowering water's surface tension. This increases the spreading and penetrating properties of the water.
Wetting agents are made using alcohol or petroleum distillates like polyacrylamides.
Golf courses, agriculture farms and even home gardeners use wetting agents. Though they work in smaller-scale situations, they aren't usually workable for large operations. They are labor intensive and produce varying results. Also, wetting agents are not a long-term solution to wettability issues.
Wetting agents can cause nutrient leaching and some even retain nutrients. Some research has shown that high concentrations of wetting agents can cause toxicities that kill roots and leaves.
Lime
Lime (calcium carbonate) can be added to soil to increase wettability. It causes an increase in soil pH, and at higher pH levels, the humic acid naturally present in soil from microbe activity becomes water soluble. When in solution, humic and fulvic acid have properties that reduce the surface tension of water. Changing soil pH is temporary and is not considered a long-term solution to low soil wettability.
Physical Tilling
Tillage increases soil wettability by reducing soil carbon through both physical disturbance and soil mineralization. This in turn reduces microbe activity and the creation of the hydrophobic waxy substances that lower soil wettability.
Tillage is not sustainable and has many negative effects. The carbon released by tillage goes into the atmosphere, increasing the rate of climate change. Tillage also disrupts soil ecology and requires heavy fuel use. It's not feasible in orchards. More farmers are engaging in no- or low-till practices. For all these reasons, it's not considered a long-term feasible way to increase soil wettability.
Nanobubble Technology
More than 500 horticulture and orchard operations across the world are using nanobubble technology to lower the surface tension of irrigation water.
Nanobubble generators efficiently reduces irrigation water surface tension. They also provide a myriad of other benefits that improve plant health, reduce disease risk and boost yield.
How nanobubbles reduce surface tension
Nanobubbles measure between 70-120 nanometers in diameter, roughly 2500 times smaller than a grain of salt. Due to their neutral buoyancy, they move randomly and continuously through water.
Nanobubbles disrupt the intermolecular bonds between water molecules, lowering surface tension. The movement of nanobubbles and their positive charge also reduces the cluster sizes of water molecules, which boosts water infiltration.
Water with reduced surface tension behaves differently on the surface of soil compared to water with high surface tension. Nanobubbles reduce the contact angle of water on the soil surface. This results in better water penetration and distribution in hydrophobic soils.
Water with reduced surface tension also has a greater ability to penetrate compacted soil zones, preventing pooling, evaporation and runoff.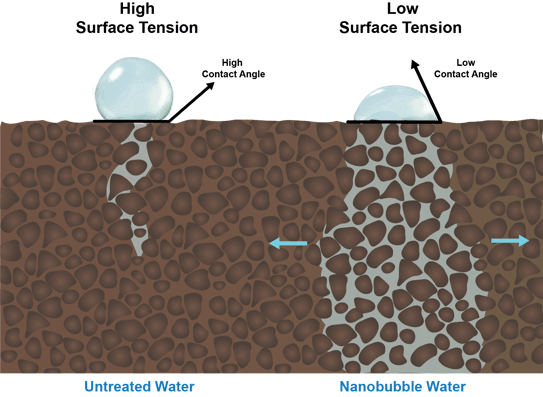 Nanobubbles Reduce Soil Compaction
Nanobubble-treated irrigation water causes increased soil flocculation. Flocculation is when individual clay particles pull together into larger aggregates. Increased flocculation results in reduced compaction, better water infiltration and more root development.
A blueberry grower in Chile used nanobubble-infused irrigation water on their outdoor crops. A Moleaer generator injected nanobubbles into the main storage tank of the irrigation system and provided a 50% increase in dissolved oxygen.
The blueberry farmer saw a 20% reduction in soil compaction compared to the control. This resulted in better water infiltration and more root development. The farmer saw increased new shoot growth, improved fruit size and quality, and improved rates of ripening.
Additional benefits of Nanobubbles
Nanobubbles offer a variety of other benefits for farmers:
Improve water quality
Control algae, pathogens and biofilm
Keep irrigation systems cleaner and reduce emitter clogging
Boost plant vigor and root development
Increase nutrient and water uptake efficiency
Improve plants' resilience to environmental stressors
Product better crop quality