Sustainable irrigation solutions to improve soil structure and function for better blueberry crops
Native to North America, blueberries are grown across North America and South America and in some areas of Europe, providing the world's blueberries throughout the year. According to the U.S. Highbush Blueberry Council, just under 500 million pounds of blueberries were grown in Peru over the last three years, followed by Mexico (398 million), Chile (364 million) and California and Oregon tied at around 140 million pounds.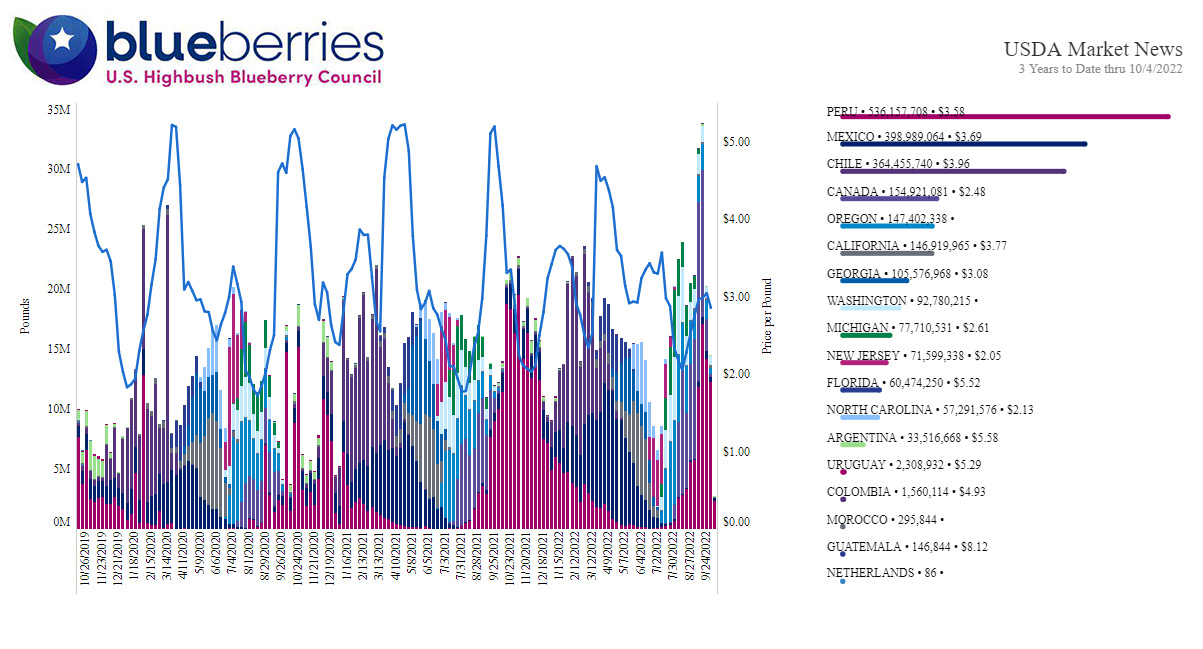 Blueberries are considered a superfood since they have tremendous health benefits, including a variety of vitamins and minerals that support a healthy immune system, bones, skin and blood pressure.
Water scarcity from cyclical drought as well as high prices for energy and fertilizer are negatively impacting blueberry cultivation worldwide. Blueberry growers are seeking sustainable and chemical-free solutions to tackle these challenges and figure out the best way to irrigate blueberries for optimal production.
Soil health and fertility paired with drought conditions negatively impact crop resilience and productivity. Issues with soil compaction, wettability and microbial activity top the list for blueberry farmers. Blueberry plants also prefer highly acidic soils with lower electrical conductivity (EC) or salts, levels.
By focusing on soil improvements, blueberry growers can optimize growing conditions for healthier, more resilient crops.
Soil Compaction Impacts Blueberry Shrub Root Health & Development
Soils are made up of minerals in the form of aggregates of sand, silt and clay and organic matter. In healthy soils, the pore space between soil mineral aggregates allows for ample movement of air, water and nutrients.
Soils with high compaction have little to no pore space for water to penetrate. Soil aggregation is often lost to compaction, reducing soil structure and altering its function.
Several problems arise in compacted soils:
Less available water: Water infiltration is reduced, limiting the availability of water for roots.
Poor root development: Roots have less pore space to grow. They must use greater force and higher energy to penetrate compacted soils. Additionally, roots don't seek water and cannot grow where water isn't present, therefore, root development and health are greatly reduced. This leads to stunted plants and lower yield.
Reduced plant resilience to drought conditions: Shallow and stunted root development reduces a plant's ability to withstand long periods with no irrigation. Roots die when water is not present, impacting plant health and crop quality.
Nutrient uptake is reduced: Less water and poor root development also mean reduced nutrient uptake resulting in micro- and macro-nutrient deficiencies that impact plant health and crop development.
Compaction is caused by a variety of factors, both natural and manmade. Deep tillage, wheel traffic and heavy precipitation can cause soil compaction. Also, working soils when they are wet reduces their natural structure and causes compaction.
Blueberry growers must find solutions to combat compaction and promote healthy root growth.
Drought and Heat Reduce Soil Wettability for Blueberries
As the effects of climate change worsen, periods of drought become more common. When drought happens, soil 'wettability' is reduced.
If soil wettability is low, the infiltration rate is also low. Low soil wettability repels water, decreasing water's ability to penetrate the soil surface. Irrigation water or rainwater pools on field surfaces instead of moving downward to the root zone. Much of the water is wasted to evaporation, runoff or both. Additionally, constant irrigation on soils with poor drainage results in increased EC concentrations, which causes plant stress and lower nutrient absorption in blueberry crops.
Without some kind of treatment, wettability will not return, negatively impacting root health and development and ultimately crop quality.
Reduced Microbial Activity Affects Blueberry Plant Health
Conditions caused by drought, low soil moisture and high temperatures, hurt soil microbial activity. Plants need a healthy microbiome to support root development, increase disease and pest resistance, mitigate stressors, enable nutrient uptake, and develop healthy crops.
Soils with high compaction and poor structure tend to have limited microbial activity.
Soil Health Solutions
Solutions to soil compaction, wettability and microbial activity have traditionally been chemical or physical.
Growers around the world have tried gypsum or a leaching fraction to solve their problems with water infiltration and poor soil quality. These are band-aid solutions at best, and do not offer any permanent or effective chance.
Adding soil amendments like compost is another solution, however, this will take a very long time to impact soil health and isn't cost-efficient for most growers.
Nanobubble Technology
Another solution is allowing growers to improve soil structure and function without the use of chemicals or lengthy processes.
Nanobubble technology for blueberry farm irrigation is a chemical-free, cost-effective and sustainable way to improve soils affected by drought and compaction. Moleaer's nanobubble generators produce gas in two forms: dissolved and nanobubbles.
By transferring gas at the highest efficiency (over 85%), Moleaer's nanobubble generators supersaturate irrigation water with high levels of oxygen. This supports healthy root development, microbial activity and nutrient uptake efficiency, yielding better-quality blueberry crops.
Nanobubbles are nano-sized bubbles, about 2500 times smaller than a grain of salt. Due to their size, they possess unique chemical and physical properties:
Because they have neutral buoyancy, nanobubbles move through the water in all parts of an irrigation system randomly and continuously using what's known as Brownian motion.
Nanobubbles reduce the surface tension of water, lowering the contact angle on the soil's surface and allowing infiltration and penetration rates to increase. This helps maintain low levels of EC in the soil by improving salt leaching and infiltration rates.
Nanobubbles increase soil flocculation, improve soil structure and reduce compaction.
Nanobubbles help break up nutrient aggregates and aid in improved ionic mobility of nutrients through soil.
Blueberry Case Study – Nanobubbles Reduce Soil Compaction
From July 2020 to April 2021, a blueberry grower and Kapicua Research Center conducted nanobubble technology trials seeking to improve plant health and crop quality.
A Moleaer nanobubble generator was installed on the main water storage tank, recirculating the irrigation water through the generator resulting in oxygen nanobubble-enriched irrigation water.
The trials produced an overall 20% reduction in soil compaction in the area irrigated with nanobubble-enriched water, compared to the control area.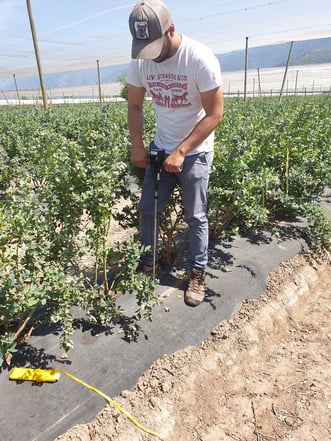 With compaction reduced, water infiltration improved, as did the development of roots and new shoots. Better blueberry fruit size/quality and ripening rate were also observed.
Specifically, nanobubble irrigation water provided a 17% improvement in fruit caliber and a 13% increase in new shoot growth compared to the control.
"Reduction in soil compaction had a significant impact on overall crop performance shown by increased new shoot growth and beneficial microbial soil activity," stated Benjamin Labbe, founder at Kapicua, a Moleaer partner in Chile who assisted Giddings with the trial. "These results led to an interesting return on investment."
Blueberry Case Study – Nanobubbles Improve Rhizosphere Conditions
Another blueberry grower in Peru installed Moleaer's nanobubble technology on their irrigation reservoir that provided water for their blueberry crops.
The oxygen nanobubble-enriched irrigation water promoted healthy roots and better rhizosphere conditions. This resulted in higher crop productivity.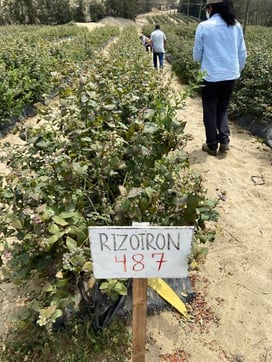 Blueberry Case Study – Nanobubbles Increase Yield for Blueberry Crops
In Chile, a blueberry farmer used Moleaer's nanobubble technology to improve crop conditions in both soil and substrate in pots. They found that nanobubble-enriched irrigation water, when run inline in their irrigation system, increased their blueberry yield size by 9.5% for the potted plants and 56.7% for the in-ground plants.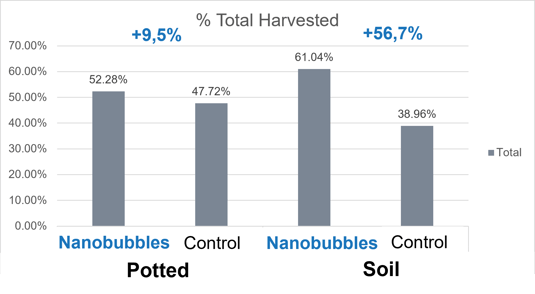 Blueberry growers worldwide can benefit from chemical-free nanobubble technology to improve their cultivation and achieve better-quality crops.
Blueberry Grower in Mexico Uses Moleaer Nanobubble Technology on Irrigation Reservoir to Improve Crops: