The importance of irrigation water quality
Sources of irrigation water stored in reservoirs or basins are critical for the irrigation of greenhouses and field crops in various parts of the world. Irrigation reservoirs or basins hold one or more types of source water including, rainwater, underground water, or surface water from rivers or lakes.
The quality of irrigation water can vary from location to location and time of year, but even at its best, when stored in a reservoir, it requires treatment to address various water quality challenges. Algae growth is common in basins, for example, as is low dissolved oxygen (DO), sediment accumulation, and pathogens like Pythium. Rising global temperatures exacerbate water quality challenges, spurring the growth of algae and other organisms and speeding the decay of organic matter. Poor water quality causes decreased crop growth resulting in crop loss affecting farmers bottom line and reducing their ability to meet growing food demands.
Irrigation water, whether it's in a tank, reservoir, standing pond or within the irrigation system, must be treated to ensure optimum growth conditions. Traditional treatment strategies such as physical treatment and oxidation offer different levels of control for algae and other organisms.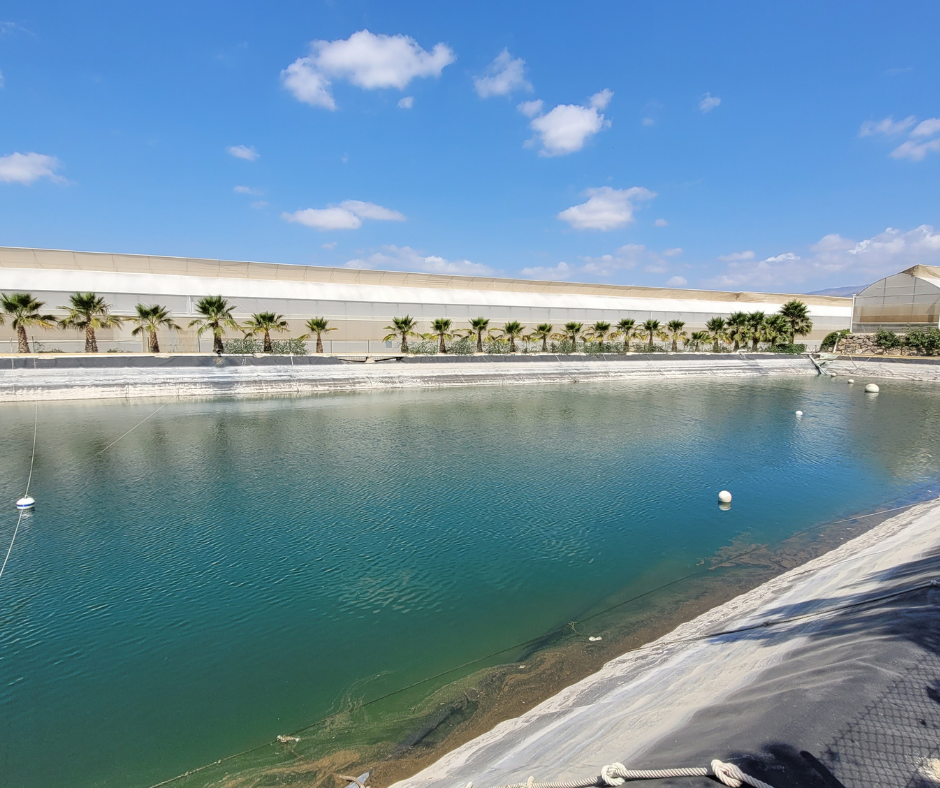 Traditional Treatment of irrigation Water from Basins
Physical disinfection through UV radiation kills algae and pathogens by destroying their DNA. The UV 'dose' delivered depends on lamp power, water flow rate, turbulence and other factors. Pre-filtration to less than 25 microns is essential because water clarity is critical for effectiveness. This method is cost-prohibitive for many growers.
Reverse osmosis is another physical water treatment method. However, reverse osmosis alone cannot control algae adequately in large, uncovered reservoirs and does not provide control for biofilm accumulation. Additional treatment is required.
Oxidation is another water disinfection method which kills algae and other organisms by causing cell lysis. It can be accomplished through repeated applications of chemicals such as chlorine, chlorine dioxide, copper sulfate or sodium hypochlorite. Chemical efficacy can be pH dependent. Using chemicals also poses risks for workers and can be a source of food safety concern if absorbed into plant cells. Bioaccumulation of chemicals in reservoirs is possible, requiring precipitation/removal or another type of management.
Adding hydrogen peroxide or peroxyacetic acid is another oxidation method. It requires high concentrations and long exposure times. This method also causes manganese and iron to precipitate, therefore growers may need to increase micronutrient levels to ensure plant performance. Long-term use of hydrogen peroxide or peroxyacetic acid can cause plastic degradation.
Oxidation can also be accomplished by diffusing ozone (O3) gas through the irrigation water; for best results, water pH must be lowered to 4.0-4.5. This process is usually only used by technically-savvy growers and is more expensive than even heat pasteurization.
Sustainable, Chemical-Free Oxidation for irrigation Water Treatment
As growers are looking for more sustainable and environmentally friendly ways to treat irrigation water from basins, oxidation using nanobubble generators is a chemical-free and natural alternative that is extremely effective in improving the quality of water.
Today Moleaer nanobubble generators are installed in more than 500 irrigation sites around the world, treating over 200 million gallons of irrigation water each day. ROI is swift, with 40% of Moleaer horticulture clients reaching ROI within 12 months.
How Nanobubbles Improve Irrigation source Water
Nanobubbles measure below 120 nanometers in diameter, roughly 2500 times smaller than a grain of salt. At a typical concentration of hundreds of millions of nanobubbles per mL and with a neutral buoyancy, they hover uniformly within a liquid, constantly providing natural oxidative water treatment.
Nanobubbles cause cell lysis of algae and other organisms in three ways:
They produce hydroxyl radicals which disrupt the buoyancy of algal cells, causing them to sink and die.
Each nanobubble typically remains suspended for months before dissolving, and upon eventual collapse, they cause cell lysis of nearby organisms through oxidation. Nanobubbles also degrade (oxidize) algal toxins.
Indirectly, nanobubbles create conditions that make it harder for algae to thrive when injected with oxygen gas. They increase water's DO level and oxidation-reduction potential (ORP, a measure of water's oxidizing capacity to break down contaminants). Higher DO also promotes the growth of beneficial microbes such as mycorrhizae and suppresses oxygen-averse pathogens such as Pythium.
Through their constant movement and strong negative charge, nanobubbles also physically abrade biofilm deposits within water basins and irrigation lines while also preventing it from re-forming. Biofilm is pervasive on most surfaces that are in frequent contact with water and can harbor a mix of pathogens and bacteria.
The use of nanobubbles also results in less backwashing (and less downtime) in media filter management.
Alongside other treatments of irrigation source water, nanobubbles are a natural and highly sustainable, cost-effective, and efficient technology.
They improve reverse osmosis by lowering the rate of fouling and increasing the flux rate. When used alongside UV treatment, they provide better transmission value, less fouling & scaling and cut energy use. When used alongside ozone treatment, they result in better total organic carbon (TOC) reduction. Nanobubbles also reduce the amount of chemical treatment required or eliminate it entirely.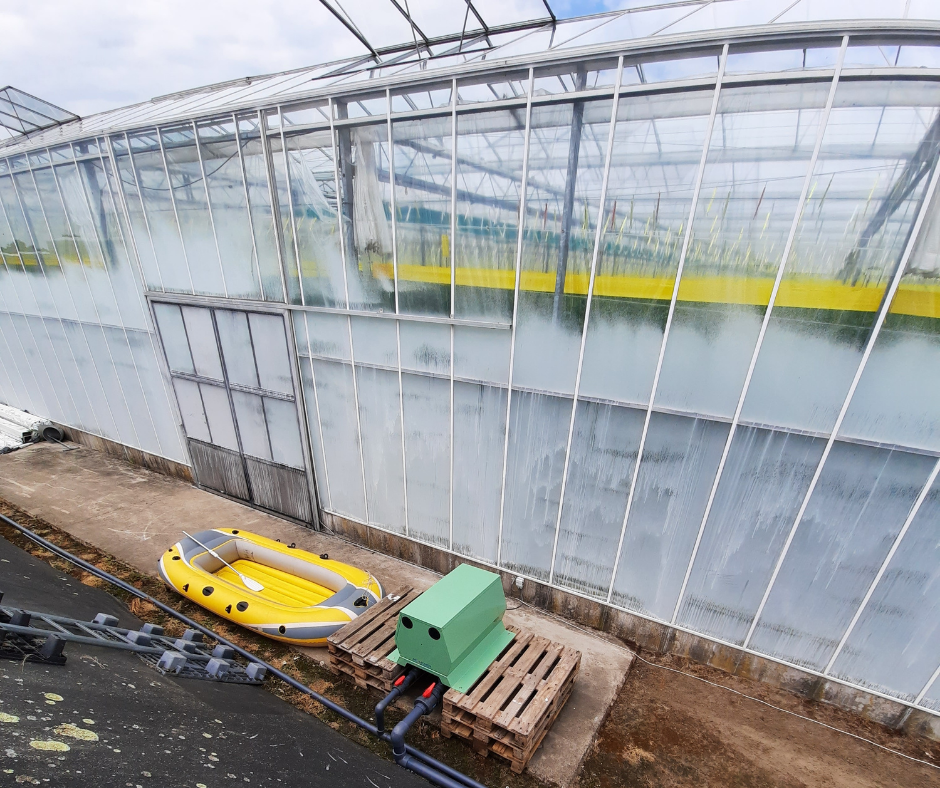 At Prominent Grevelingen, a large greenhouse facility in the Netherlands which irrigates using a basin with a volume 8000 m3, the use of Moleaer's Clear™ nanobubble generator has eliminated the need for dosing the basin with hydrogen peroxide and the use of hydrogen peroxide for cleaning by 50 percent.
Before the installation, Prominent's growers struggled with declining water quality. They applied annual treatments of hydrogen peroxide in the basin to eliminate algae and other organisms, but this provided limited effectiveness.
With Moleaer technology, the duration between required flushing of the sand filter has lengthened from every 2 hours to every 6 hours. The automatic filter, positioned between the basin and the drip irrigation system, also has significantly less biofouling.
All of this has reduced operational and maintenance costs, putting Prominent Grevelingen on track for swift ROI on their nanobubble generator.
Hundreds of other greenhouse operations with irrigation basins, such as BioSabor in Spain and PlantSelect in Belgium, have seen similar results.
Two Case Study Videos:
Chilean Avocado Farm:
Algae in the irrigation reservoir was the main focus for the avocado farmer. They achieved reduced algae growth and better water quality, which ultimately improved plant growth and production.
MexicAN Blueberry Farm:
In this case study, you'll see how irrigation water enriched with oxygen nanobubbles improved crop quality and plant health for a farmer in Mexico.

The blueberry farmer battled to control algae on the reservoir, affecting root health and causing blockage on the drippers. They achieved reduced algae growth and better water quality, which ultimately improved plant growth and health, as well as less biofilm, reducing the use of chemicals to clean the system.
Moleaer's nanobubble generators have proven to improve water quality and prevent the growth of algae and other organisms in irrigation basins sustainably, efficiently and economically.