Common Challenges in Koi Pond Maintenance
Koi fish ponds, although visually appealing and serene, can encounter a range of common issues that require attention and maintenance. One prevalent concern is poor water quality that negatively impacts both the resort guests and the koi fish. Without regular monitoring and appropriate water management, the water can become imbalanced, leading to issues like foul odors, excessive algae growth and muck accumulation, poor oxygen levels, and nutrient buildup.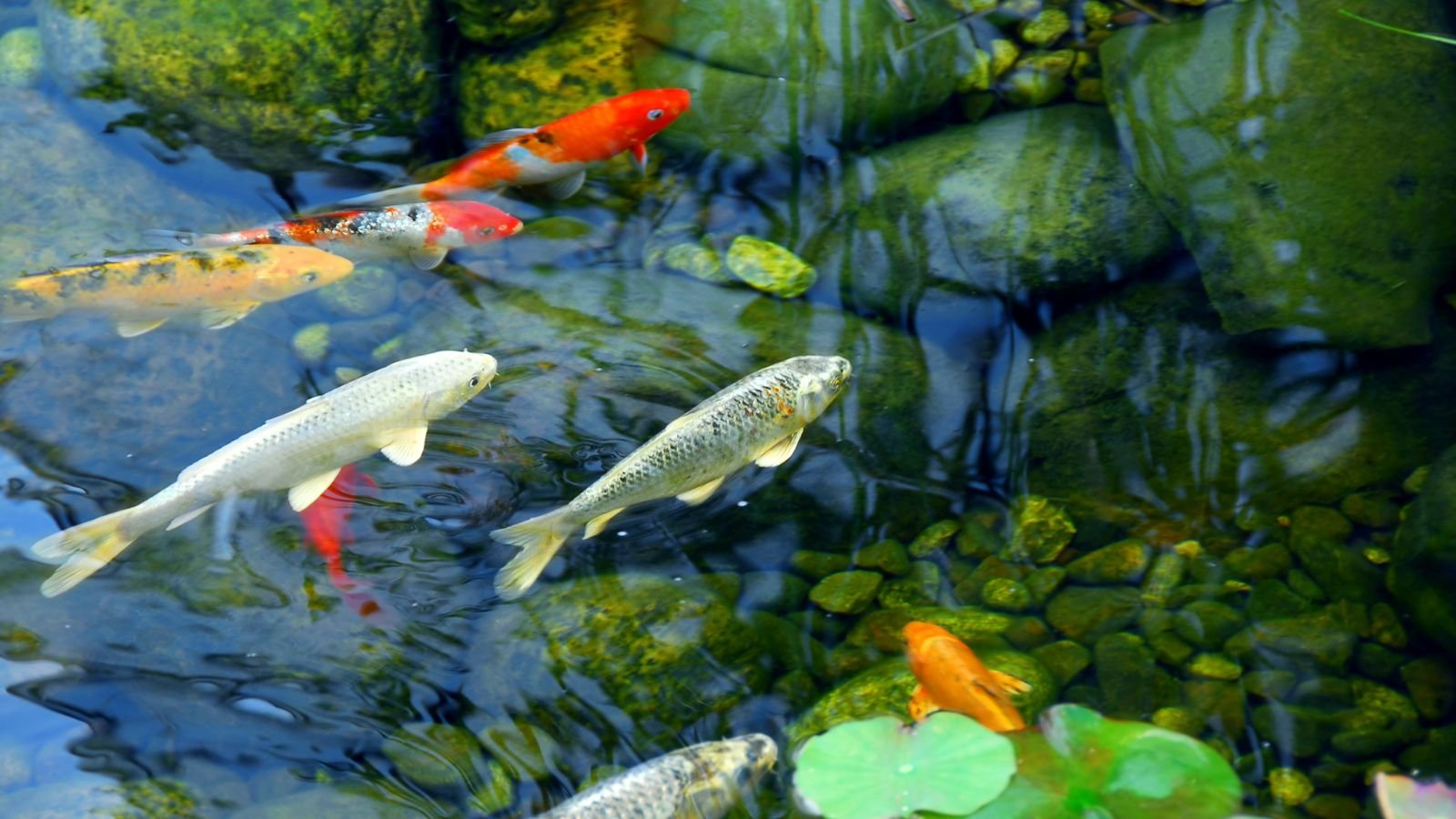 Sustainable Tools for Koi Pond Maintenance
Biological Filtration Systems: Utilizing natural processes and beneficial bacteria, biological filtration systems break down harmful substances and maintain water quality without the need for chemical additives.
Aquatic Plants: Introducing a variety of aquatic plants, such as water lilies, water hyacinths, and water lettuce, helps absorb excess nutrients, control algae growth, and oxygenate the water naturally.
Ultraviolet (UV) Sterilizers: UV sterilizers use ultraviolet light to kill algae, bacteria, and other pathogens, ensuring water clarity and reducing the need for chemical treatments.
Mechanical Filtration: Mechanical filters, such as foam pads or filter brushes, physically trap debris and particles, preventing them from clouding the water and reducing the reliance on chemical clarifiers.
Beneficial Bacteria Supplements: Adding beneficial bacteria supplements helps establish a healthy microbial balance in the pond, aiding in the breakdown of organic waste and reducing the risk of water imbalances.
Natural Water Treatments: Utilizing natural water treatments, such as barley straw or enzymes, can help control algae growth and promote a balanced pond environment without resorting to chemical algaecides.
Proper Fish Feeding Practices: Adhering to appropriate fish feeding practices, such as avoiding overfeeding and utilizing high-quality fish food, reduces waste production and helps maintain water quality naturally.
Regular Water Testing: Conducting regular water tests enables pond owners to monitor key parameters such as pH, ammonia, nitrite, and nitrate levels, allowing them to take corrective actions promptly and maintain a chemical-free environment.
Integrated Pest Management: Implementing integrated pest management techniques, such as physical barriers or beneficial insects, helps control pests like mosquito larvae without relying on chemical pesticides.
Nanobubble Technology: Nanobubbles improve water quality and clarity, reduce muck and foul odors, increase dissolved oxygen levels, and support healthy fish without the use of chemicals. Nanobubble technology also complements other koi pond maintenance tools to improve their effectiveness.
Nanobubbles: A natural, chemical-free pond cleaner
Nanobubbles provide a chemical-free way to restore pond ecosystems, helping to naturally reduce muck, algae, foul odors and nutrients from fish, as well as improve water quality and clarity. Healthier water also promotes the health of koi fish and aquatic plants.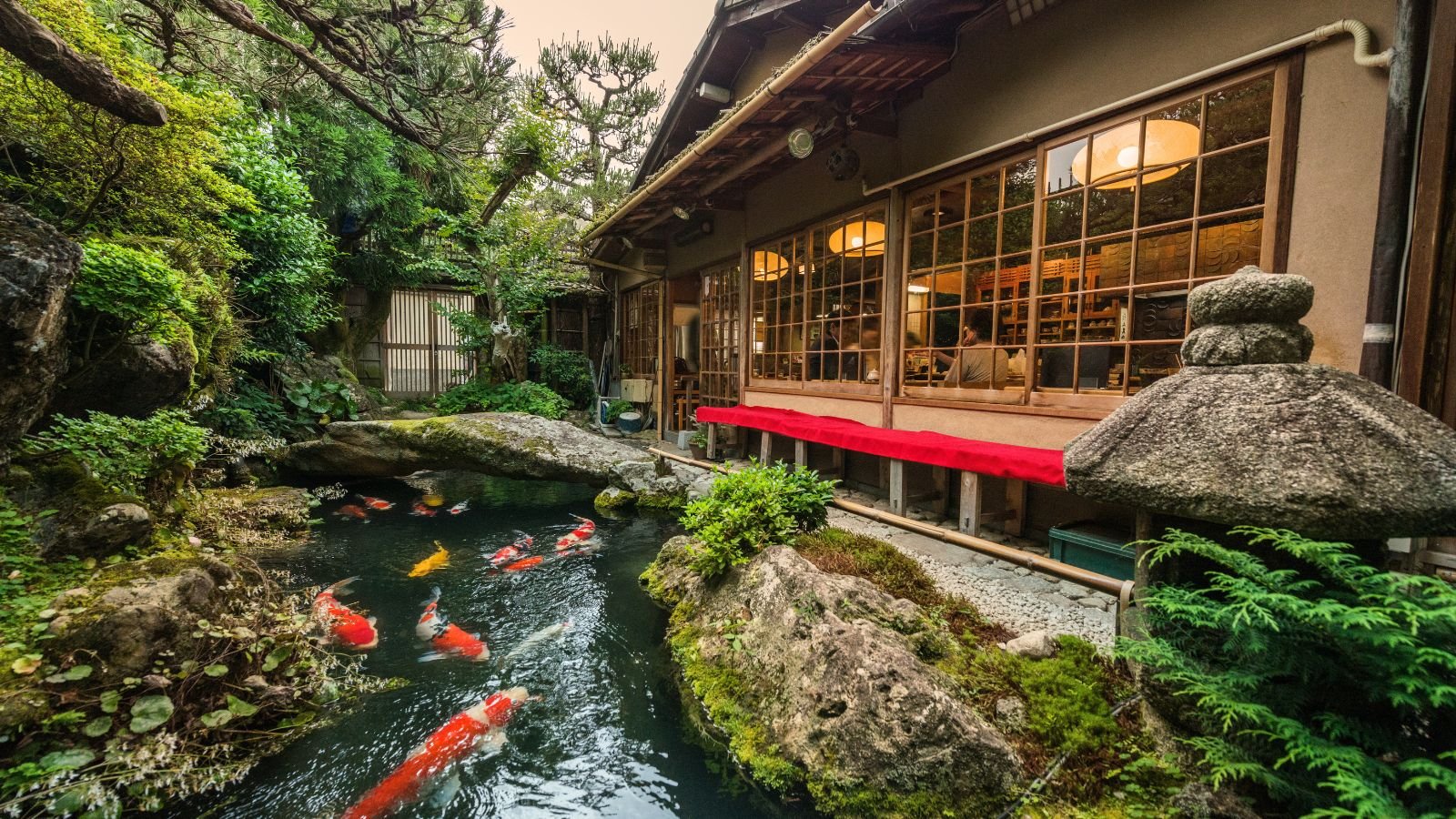 Nanobubbles are tiny bubbles of gas (typically oxygen or air) that are under 200 nanometers in diameter. They are created when pressurized air or gas is injected into water, and they have a number of unique properties that make them ideal for proactive targeting common koi pond maintenance problems.
First, nanobubble technology delivers the highest oxygen transfer efficiency and increases dissolved oxygen levels throughout the water column, which is essential for a healthy pond ecosystem. More oxygen throughout the water and in the sediment layer helps increase muck digestion and reduce foul odors.
Second, nanobubbles produce mild oxidative effects. Their size makes them stable, remaining suspended in water for long periods of time without popping. When they encounter contaminants, they collapse and produce a mild oxidant that degrades bacteria and pathogens.
Good water quality through nanobubble technology enhances the clarity and aesthetics of the pond, providing an enjoyable and visually appealing experience for resort guests as well as promoting thriving, vibrant koi.
Koi Pond Maintenance at the Westin Hapuna Beach Resort – Success with Nanobubbles
The Westin Hapuna Beach Resort on the North Kona Coast in Hawaii has a natural koi pond that creates a serene ambiance for visitors looking to relax and unwind. Just steps away is a restaurant with outdoor seating and pools with lounge chairs for guests to enjoy the beauty of Hawaii.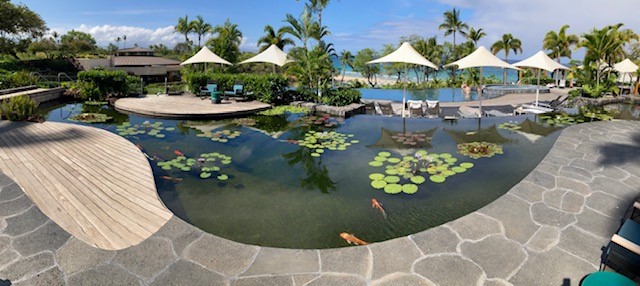 A special charm of the resort, it was imperative for the Hotel Manager, Marguerite Heap, that the koi pond be clear and odor free so visitors could enjoy themselves. She turned to her lake management company, Wai Kai, Inc., a woman-owned business based in Hawaii that designs and maintains fresh and saltwater ponds in residential and commercial environments, owned and operated by Melanie Gross.
Gross recommended Moleaer's Kingfisher nanobubble generator, a compact, quiet unit that is easily hidden from resort guests. The Kingfisher takes in air from the environment, compresses it through the generator and injects nanobubbles ― 2,500 times smaller than a grain of salt ― back into the water. This in turn enriches the water with oxygen and nanobubbles which form mild oxidants for disinfection and aids in restoring aquatic ecosystems sustainably without chemicals.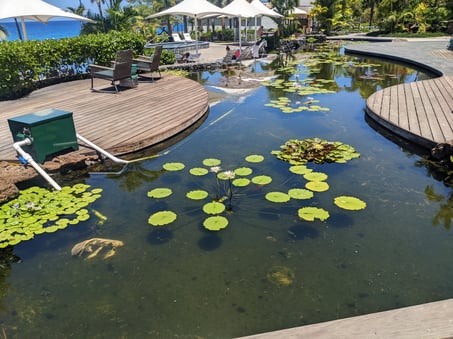 Months after installation, Heap shared her satisfaction with the Kingfisher, "We have been using Moleaer's nanobubble generator here at the Westin Hapuna Beach Resort since March 2022, and it has been a game changer! We have been absolutely thrilled with the improvements to the health of the plants and fish. After just a short time, the clarity in the pond increased dramatically which has translated into a better experience for our Resort guests, and the fact that it is an all-natural treatment is an added bonus!"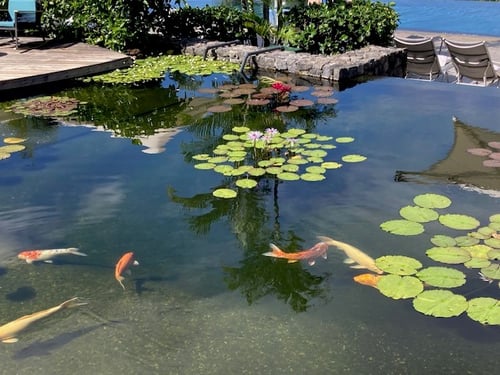 Moleaer's nanobubble generators are easy to install and maintain and come in a broad range of sizes to meet the needs of various-sized water bodies. For larger-sized lakes and ponds, Moleaer offers the Clear nanobubble generator, which offers 50 and 150 GPM models with optional remote monitoring solutions. And, for smaller, harder-to-treat waterbodies like Westin's koi pond, Moleaer has the Kingfisher with a 40 GPM flow rate. Both nanobubble generators are easily mounted on the shore of your lake or pond, recirculating water to continuously inject nanobubbles.