How Almond & Nut Growers Can Improve Production with Chemical-Free Soil Improvements and Enhanced Root Zone Conditions
Almonds are a Growing Market, Especially in California
The global market for almonds and almond-based foods like almond milk, almond paste, and almond flour grew exponentially over the last two decades and is expected to continue to grow at a compound adjusted growth rate (CAGR) of 5.44% to $11.8 billion by 2027 from $8.2 billion in 2020, according to Global Almond Market. Almond milk alone has a projected annual growth rate of 15.2% globally from 2022-2030.
Nowhere has this growth been more consequential than in California, which produces 100% of the almonds consumed commercially in the U.S. and 82% of the worldwide almond supply. Almonds are California's top agricultural export and the largest tree nut crop in both total dollar value and acreage. They also rank as the largest U.S. specialty crop export. Almonds displaced dairy products and grapes as California's top-valued agricultural export commodity, with a value of more than $4.9 billion in foreign sales in 2019, an increase of 8% from the previous year.
This happy economic story has made many California almond growers prosperous, but the good news may be short-lived. Almonds put an enormous strain on the land and water resources needed to grow the crop, which poses serious challenges to its long-term sustainability.
Water & Almond Production
By far the largest problem is the almond's disproportionate need for water, a hotly contested resource in the American West to begin with. According to the Earth Institute Center for Environmental Sustainability at Columbia University, "almonds are water-guzzlers, needing around two liters of water for each kernel."
Making matters worse is that, unlike other crops, almonds must be grown year-round, requiring constant water input. Most other crops can be allowed to lie fallow for a year without causing damage to the plant, but almond orchards can't recover the same way. After a few months without water the trees die. Farmers must use commonly expensive well water to maintain the crop. The high price of that water drives farmers to plant even more almond trees in order to turn a profit. This vicious cycle is depleting California's groundwater reserves at a massive rate, exacerbating the water crisis brought on by the drought.
Nanobubbles: A Sustainable Irrigation Solution for Almonds
For almond farmers, water is top of mind and any opportunity to reduce or use water more efficiently is highly impactful to their bottom line. Moleaer's nanobubble technology sustainably addresses some of the major problems almond growers have by enhancing irrigation water quality, resulting in better infiltration and distribution uniformity, improved soil and plant health, more efficient nutrient and water uptake, and better quality crops overall. Two recent trials illustrate the technology's efficacy for nut growers.
Maricopa Orchards – Inline Irrigation
Maricopa Orchards, a family-owned farm in Fresno, California, grows mostly pistachios and almonds. Like most farms in the Sacramento Delta, Maricopa struggled with reduced water allocations from the state, increased drought conditions, and declining soil conditions from elevated levels of sodium, boron, chloride, and bicarbonate salts brought in from well water. High levels of salinity in the soil negatively impact plant health and crop production.
Maricopa had tried to lower salinity by applying gypsum, but that was costly and has the potential to cause other problems. The company sought a sustainable way to achieve better infiltration, improve soil health, and leach salts below the root zone to improve their nut trees' root health and crop quality.
Joe Coelho, Maricopa's agronomy manager, selected Moleaer's nanobubble technology as a cost-effective solution because it delivers multiple benefits, including:
Reduced the surface tension of water, allowing better penetration of water into the plant
Improved soil flocculation and soil structure
Reduced soil compaction
Increased ionic mobility of nutrients
Increased dissolved oxygen (DO) levels in irrigation water
Improved irrigation system hygiene through pathogen and biofilm control
The nanobubble generator was installed inline in the drip irrigation system with a tank for pure oxygen gas. Oxygen nanobubbles were then injected directly into the irrigation system of around 10 rows of 40 trees per row.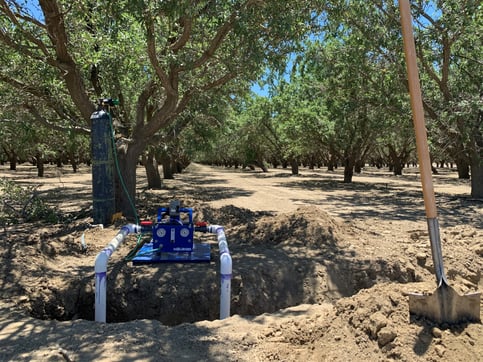 During a trial period in one of the saltiest areas on the property, Coelho implemented heavy irrigation to support leaching and monitored the conditions of the soil, including moisture, infiltration, and salt levels at various depths. Coelho observed the nanobubble-enriched water was able to infiltrate down to a depth of 46 inches, compared to only 26 for the control water.
In addition, Coehlo saw that the 46-inch profile of soil had reduced salt content. The initial findings showed a significant improvement in water infiltration and salt leaching. With the consideration of many additional benefits, Moleaer's "nanobubble technology shows great promise," said Coelho. "The product could be a much more comprehensive solution to issues caused by soil and water salinity."
Read more about the Maricopa trial
Prodalmen Chile Trial – Reservoir Treatment
Chile is another major producer of almonds, with 10000 hectares producing 31.9K metric tons of the nut annually. At Prodalmen, a large grower in Santiago, the company uses a 6.6-million-gallon reservoir to irrigate their almond orchard. Reduced water quality from low levels of dissolved oxygen (DO) and increased disease pressure in the reservoir negatively impacted plant health. To improve the irrigation water quality in the reservoir, Prodalmen installed a Moleaer XTB™ 250 GPM (56 m3/h) nanobubble generator.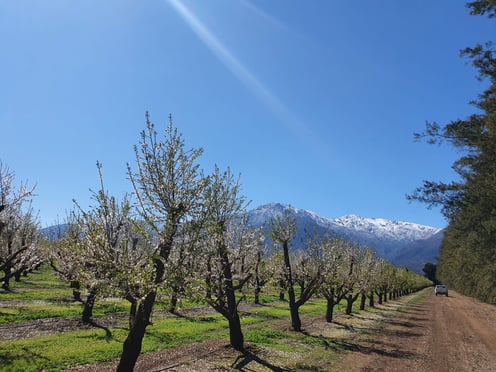 In addition to raising the DO levels, Moleaer's nanobubble technology also supersaturated the irrigation water with high concentrations of nanobubbles. After the water is pumped from the reservoir to the orchard, nanobubbles improve water infiltration into the soil by reducing the surface tension of water and flocculating soils to reduce compaction. Nanobubbles also enhance nutrient and water uptake efficiency by reducing the size of nutrient and water molecule clusters for better absorption by the roots. All these benefits lead to healthier roots and better crop quality.
Prodalmen reported nanobubble technology led to significant improvements in the renewal of spurs and shoots on the almond trees compared to the control group. For fruit in the range of 25/27 (13 mm) and higher calibers, cumulative production of the Carmel variety was 83% versus 56% in the untreated crops – a 27% increase attributed to the application of nanobubbles.