Lake Okeechobee has been plagued with blue-green algal blooms for decades. These blooms degrade water quality, which could potentially have a negative impact on aquatic life, wildlife, human health and the environment.
What are harmful algal blooms?
Harmful algal blooms (HABs) are "overgrowths of algae in water" that "produce extremely dangerous toxins that can sicken or kill people and animals, create dead zones in water, raised treatment costs for drinking water and hurt industries that depend on clean water," according to the Environmental Protection Agency (EPA). They thrive in slow-moving water in sunny locations with increased nitrogen and phosphorus nutrients, often a result of human pollution. Overgrown algae blocks sunlight from other aquatic plants and consumes oxygen in the water. Low oxygen and sunlight levels cause desirable aquatic species to die off, producing dead zones in the water. The results have been devastating for many lakes.
This is a widespread issue in lakes across the United States and beyond. It's important that we research ways to control and prevent HABs for human health and the environment.
Pahokee Marina Research Study for Algae Control
The Florida Department of Environmental Protection has awarded a grant to the Water School at Florida Gulf Coast University (FGCU) to study the impact of Moleaer's nanobubble technology as a sustainable alternative to traditional chemical pesticides at Pahokee Marina in Lake Okeechobee. This study will investigate the use of nanobubble generators as an innovative tool that can be used alongside existing methods to control algae.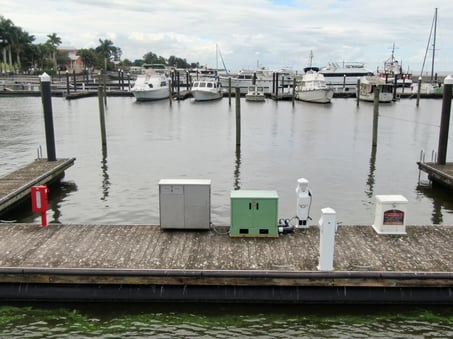 Moleaer has installed four ClearTM nanobubble generators in the marina to prevent and treat HABs. The performance of the units and the effect of the water quality are being continually monitored. Results from this study can be applied to manage lakes globally.
Check out the footage from our September 2021 installation at Pahokee Marina.
Learn about this project through local news coverage: