Research by third-party institutions shows the positive effects of oxygen nanobubble-enriched irrigation water.
These studies demonstrated that the use of nanobubble generators provides significant benefits to crops, soil and irrigation systems. Read on for a quick roundup of exciting recently published findings on the positive effects of using nanobubble-treated irrigation water.
Lettuce performance enhanced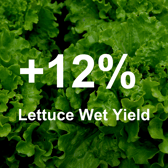 In May 2022 at European Geosciences Union General Assemble 2022 (EGU22 ), the 24th EGU General Assembly, scientists presented results of nanobubble-treated surface drip irrigation water on the growth of lettuce. They found that:
Nanobubble-treated water increased the availability of oxygen in the rhizosphere (the area around root cells), which in turn promoted plant growth and nitrogen use efficiency, regardless of the water source.
Using nanobubble generators also increased lettuce wet yield from all sources of water. The greatest impact was recorded in saline water treatment where performance increased by 12%.
Tomato and cucumber: several benefits
In a 2019 study on greenhouse cucumbers and tomatoes published in the Journal of Cleaner Production, scientists found that nanobubble-treated water significantly increased yield, irrigation water use efficiency and fruit quality without increasing the volumes of irrigation water and fertilizer needed.
This "demonstrated a cleaner production, being friendly to soil ecological environment and sustainability."
Clogging reduced
Another research team has studied reductions in drip irrigation system clogging through the use of nanobubbles. They published their results in a 2020 article called "Influence of micro/nanobubbles on clogging in drip irrigation systems" in RSC Advances journal.
The clogging of drip emitters due to particulates, nutrients, organic matter and microorganisms seriously restricts the performance and useful life of drip irrigation systems.
This team found nanobubbles effectively remove suspended particles in the water, limiting microbial activity and significantly increasing the concentration of dissolved oxygen in the water to promote higher plant growth rates.
They concluded that using nanobubble-treated irrigation water is beneficial for maintaining uniformity in drip irrigation systems and effectively prolonging its useful life.
In addition, within the same drip emitter type, nanobubble aeration makes the uniformity coefficient of the drip irrigation system more stable.
Organic tomatoes: Comparing Nanobubble and Traditional Pump/Aeration Oxygenation
Researchers found that organic tomato plant growth and productivity were enhanced using nanobubble oxygenation of irrigation water. Their findings were published in the Journal of Agricultural and Food Chemistry in the article titled, "Enhancement of Tomato Plant Growth and Productivity in Organic Farming by Agri-Nanotechnology Using Nanobubble Oxygation."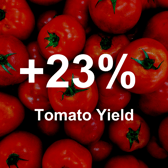 Nanobubble oxygenation was compared to traditional pump oxygenation and with a control group in soil column experiments.
Soil microbial biomass, activity and diversity were significantly improved due to the oxygenation treatments. In addition, microbial metabolic functions were shifted in both oxygen nanobubble treatments compared to the control group. The final yield increased by 23% for tomatoes in the oxygen nanobubble treatment group compared to the control.
These scientists concluded that nanobubble aeration was a potentially promising approach to stimulate the mineralization of organic fertilizer and thus improve crop growth during the transition from the use of chemical fertilizers to organic fertilizers in organic farming.
Soil fertility and crop production improvements
The conclusion from a two-year field study in China published in the Soil Biology and Biochemistry Journal showed that using nanobubble-enriched irrigation water increases sugarcane yield and soil fertility in soils with low air permeability.
The scientists stated that "these responses were associated with variations in diversity, co-occurrence networks and predicted functionality of the soil bacterial community. Irrigation with [nanobubble-treated water] promotes potential bacterial functions related to nitrification and nitrogen fixation, and improved the mutual dynamic feedbacks between soil fertility and microorganisms, which jointly promoted a higher yield of sugar cane."
Boosted yield and quality of spring corn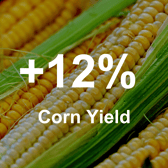 In another two-year field study published in Science Reports, an online multidisciplinary, open-access journal, researchers tested nanobubble-treated irrigation water for its ability to increase maize performance.
The results showed that nanobubble-treated water significantly boosted maize root growth, yield, nutritional quality and irrigation water use efficiency. The highest yield obtained was 11.66% higher than the control group.
More results
These are just some of the recent studies on the many benefits of using nanobubble-treated irrigation water in agriculture. Moleaer uses the results from independent research studies like these as well as commercial case studies to determine the benefits of our technology on farming.
To read about more studies relating to surface tension, soil wettability, root zone enhancements, water infiltration and much more, please visit our blog and case study pages.