Research recap: the potential of nanobubble technology to improve water treatment
Here are some hard facts:
The current world population of 7.6 billion is expected to reach 8.6 billion by 2030, according to the United Nations.
Roughly 83 million people are being added to our global population every year.
At the same time, less than 1% of the water on our planet is available for our use – 99% is saltwater or frozen at the north and south poles. The water we need to survive comes mostly from surface sources (lakes and rivers) or groundwater, with the rest derived from rainwater collection or desalinated seawater. At this point in human history, the World Health Organization estimates that over 2 billion people on our planet are without ready access to safe drinking water.

It's safe to say that as world population increases in parallel with the growth of agriculture and other industries, the global need for effective, sustainable, affordable solutions for water treatment has never been more desperate.

Because the current common water treatment methods – adding chemicals such as chorine to water – raises sustainability, safety and cost concerns, a team of scientists at various institutes affiliated with the University of Arizona recently examined the opportunities to improve water treatment through nanobubble technology.

They explain that "numerous nanobubble applications have emerged in different fields, including water and wastewater purification, where nanobubbles offer the potential to replace or improve efficiency of current treatment processes."

These scientists also note that since the existence of nanobubbles was first hypothesized almost 30 years ago in 1994, the study of their properties has rapidly advanced in parallel with rapid commercialization of nanobubble generator technology.

Nanobubbles measure between 70-120 nanometers in diameter, roughly 2500 times smaller than a grain of salt. Due to their neutral buoyancy, they do not rise to the surface and pop like larger bubbles do, and instead move randomly and continuously through water in all parts of a water body or system via Brownian motion.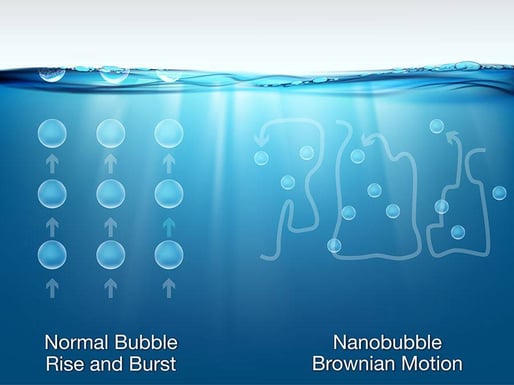 Nanobubbles offer a chemical-free, sustainable, proven and cost-effective way to treat water and wastewater because of their unique chemical and physical attributes.
Treatment required
Water treatment in both developed and developing countries involves removing contaminants. These include natural contaminants (for example, heavy metals, salts and algal toxins) and those that result from human activity (e.g., nitrate, chemical pollutants, pharmaceuticals).

Contaminants can be hard to remove from water for a variety of reasons. One key reason is because many of them cling to the surfaces of particles that may be present in the water.

The scientists at the University of Arizona explain that nanobubbles improve water treatment because they influence gases trapped on particle surfaces and also greatly boost gas transfer into water.

They also note that, among other unique properties, nanobubbles also continually produce quasi-stable reactive oxygen species (ROS) which oxidize pollutants and pathogens in water.

In addition, nanobubbles improve particle aggregation through intraparticle bridging coagulation, or the attachment of colloid particles on bridging molecules' (a polymer) active sites that results in the formation of a larger floc.

Nanobubbles also have the ability to mitigate fouling on surfaces, such breaking down and removing biofilm from irrigation pipes.
Of all these potent nanobubble properties however, the team identifies ROS production by nanobubbles as potentially holding the greatest promise for water treatment.

That's because oxidation using nanobubbles supports a transition away from the use of chemical oxidants such as chlorine and ozone. As the scientists point out, these chemicals are costly, dangerous to handle and produce harmful by-products.

What's worse, as another group of scientists published a paper in the Environmental Science & Technology Journal explaining that excessive dosage of chemical oxidants and/or energy input is required in water treatment these days
"for the removal of increasing amount of pollutants with higher structural complexity, especially the emerging micropollutants with trace concentrations in the complicated water matrix." This results in low cost-effectiveness of chemical oxidants, they note, as well as potential secondary pollution.
Oxidation 101
Oxidation is a disinfection method where atoms lose electrons. In treating water with chemical and biological pollutants, oxidation can neutralize the pollutants or otherwise alter their properties so they're easier to remove. In treating water to remove algae or pathogens such as bacteria, oxidation directly causes cell lysis (death).

As mentioned, oxidation can be achieved through repeated applications of chemicals such as chlorine, chlorine dioxide, copper sulfate or sodium hypochlorite (bleach). Passing ozone gas through water also achieves oxidation, as does the addition of hydrogen peroxide or peroxyacetic acid.

Nanobubbles, however, provide safe, natural and continual oxidation. Nanobubble water treatment avoids the transport and handling of dangerous chemicals like chlorine, and the potential production of harmful chemical by-products.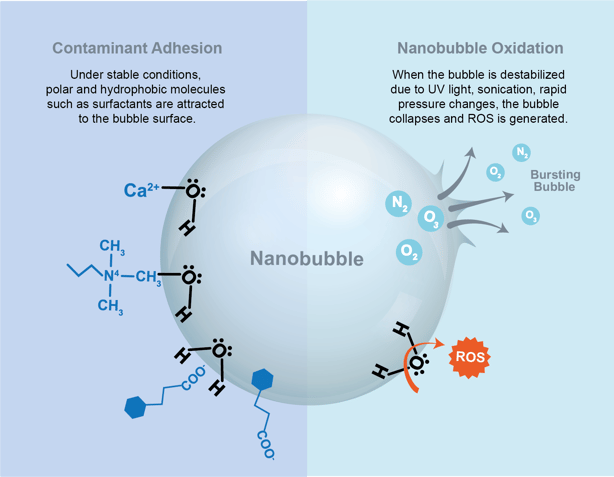 Nanobubble oxidation occurs as follows:

Each tiny nanobubble has a long 'lifespan' of up to several months provided by its neutral buoyancy and hard outer shell of ions. Each stable bubble contains a small but concentrated amount of energy from the balance of high internal pressure, surface tension, and surface charge. When the bubble collapses due to a stimulus such as UV light or sonication, ROS are produced due to the release of the nanobubble's energy. In water treatment, this process can enhance the oxidation of pollutants and the removal of pathogens.

Besides removing biofilm through oxidation, nanobubbles remove biofilm through direct abrasion as they move constantly and randomly through water.

Furthermore, nanobubbles are negatively charged and are attracted to the positive surfaces of water treatment systems. This attraction causes them to completely cover surfaces, preventing any free-floating microbes from attaching and forming biofilm.
Use of nanobubbles
As the team from University of Arizona states, "nanobubbles offer the potential to replace or improve efficiency of current treatment processes. […] Nanobubble technologies could be distributed throughout rapidly-changing and increasingly decentralized water treatment systems in both developed and developing countries."

Patented nanobubble generators from Moleaer have been commercialized and are now used for water treatment in many applications.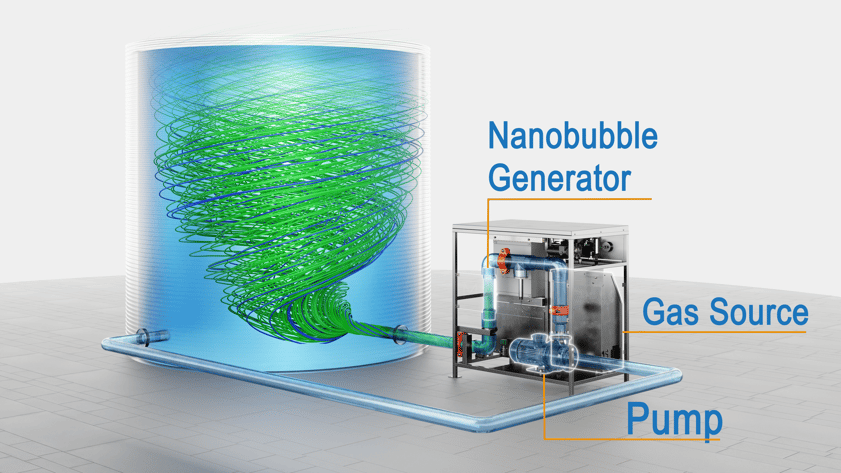 Today, Moleaer nanobubble generators are found at over 1700 commercial sites around the world, treating over 570 million gallons each day.

In addition to water and wastewater treatment, nanobubble generators are being used for natural and cost-effective oxidation (and other effects/benefits) in sectors such as agriculture (greenhouse, field horticulture and orchard production), mining, and oil and gas.