Moleaer to be honored at Global Event on February 24
January 12, 2022 (Carson, CA) – Real Leaders is thrilled to announce the newly selected winners of its 2022 Top Impact Companies from around the world. "Business leaders across the globe are rapidly discovering that to be competitive – and to grow and thrive – they must forgo shortsighted thinking in favor of a farsighted vision that takes into account their company's social and environmental impact," said Mark Van Ness, Founder of Real Leaders. "We are excited to welcome new and old companies alike to the impact movement, and into the Real Leaders Impact Awards community."
The 2022 list features a mix of respected impact brands of all sizes and from a variety of The 2022 list features a mix of respected impact brands of all sizes and from a variety of well as Allbirds, Danone, and Warby Parker.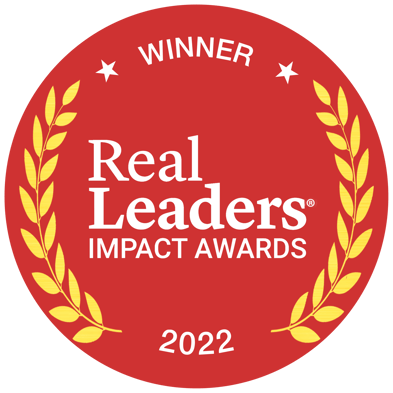 "We are thrilled and humbled to be recognized by Real Leaders and join other values-driven companies making a positive impact," said Nick Dyner, the CEO of Moleaer. "Through the use of our proprietary nanobubble technology, we are unlocking the power of water to help businesses do more with less. Moleaer Nanobubbles help farmers grow more food, businesses manage their water needs more effectively and efficiently, and restore aquatic ecosystems sustainably without added chemicals. We are proud to be recognized for these achievements."
A virtual ceremony will be held on February 24, 2022 to honor the winners and will feature a keynote from Peter Diamandis, founder and executive chairman of the XPRIZE Foundation and executive founder of Singularity University.
About Real Leaders
Real Leaders is a membership community for impact leaders with a global media platform dedicated to driving positive change. It's on a mission to unite farsighted leaders to transform our shortsighted world. Founded in 2010, Real Leaders recognized early on that businesses bore a responsibility to be as cognizant of their impact on employees, society, and the planet as they are on their bottom line. Real Leaders is a B Corporation, member of the UN Global Compact, and is independently owned.
LinkedIn: Real Leaders
Instagram: @Real_Leaders
Twitter: @Real_Leaders
Facebook: @RealLeadersMagazine
Hashtag: #RealLeadersImpactAwards
###
About Moleaer
MoleaerTM is an American-based nanobubble technology company with a mission to unlock nanobubbles' full potential to enhance and protect water, food, and natural resources. Moleaer has established the nanobubble industry in the U.S. by developing the first nanobubble generator that can perform cost-effectively at municipal and industrial scale. Moleaer's patented nanobubble technology provides the highest proven oxygen transfer rate in the aeration and gas infusion industry, with an efficiency of over 85 percent per foot of water (Michael Stenstrom, UCLA, 2017). Through partnerships with universities, Moleaer has proven that nanobubbles are a chemical-free and cost-effective solution to increasing sustainable food production, restoring aquatic ecosystems, and improving natural resource recovery. Moleaer has deployed more than 700 nanobubble generators worldwide since 2016.
To learn more, visit: www.Moleaer.com
About nanobubbles
Nanobubbles are tiny bubbles, invisible to the naked eye and 2,500 times smaller than a single grain of table salt. Bubbles at this scale remain suspended in water for prolonged periods, enabling highly efficient oxygen transfer of dissolved gas in liquids. Nanobubbles also treat and reduce pathogens and contaminants of emerging concern as well as scour surfaces to break apart biofilm matrices (Shiroodi, S., Schwarz, M.H., Nitin, N. et al., Food Bioprocess Technol, 2021).
Media Contact
Juanita Gutiérrez
Financial Profiles
moleaerPR@finprofiles.com
310.622.8235