Moleaer's Dominguez Channel project was recognized with a Distinction award
May 17, 2022 (Madrid, Spain) – The Global Water Awards by Global Water Intelligence recognize the "most important achievements in the international water industry within several categories, and reward those initiatives in the water, wastewater and desalination sectors that are moving the industry forward through improved operating performance, innovative technology adoption and sustainable financial models."
For Moleaer's work alongside the County of Los Angeles Department of Public Works to restore water quality in the Dominguez Channel, Moleaer received a "Distinction" award for the Global Water Awards Project of the Year.
Moleaer's team of talented professionals worked around the clock to deploy nanobubble technology that helped restore the water quality in the Dominguez Channel by eliminating the production of hydrogen sulfide gas (H2S). The success of this project demonstrates that chemical-free nanobubble technology provides a sustainable and powerful tool in surface water remediation for municipalities.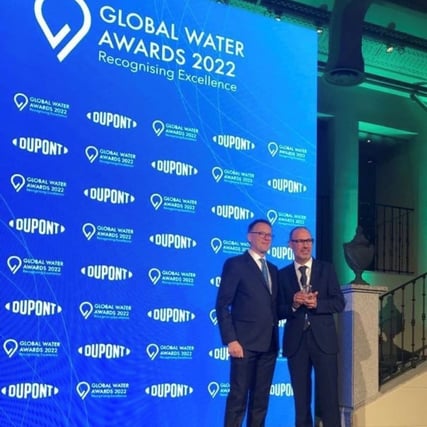 Our team accepted the award on May 17 at the Global Water Summit in Madrid, Spain. This year's theme was "water positive, carbon positive," with the objective to map out "a route to a better future for water through climate emergency."
"It's our mission at Moleaer to unlock the power of water to do more with less because every living thing depends on water," states Nick Dyner, Moleaer's CEO, "Amid water scarcity and climate change, we believe that climate tech should be focused on water. In addition to needing water to live, we use water in virtually every industrial process, making the need to preserve and conserve water even more important to our future."
Learn more about Moleaer.
###
About Moleaer
MoleaerTM is an American-based nanobubble technology company with a mission to unlock nanobubbles' full potential to enhance and protect water, food, and natural resources. Moleaer has established the nanobubble industry in the U.S. by developing the first nanobubble generator that can perform cost-effectively at municipal and industrial scale. Moleaer's patented nanobubble technology provides the highest proven oxygen transfer rate in the aeration and gas infusion industry, with an efficiency of over 85 percent per foot of water (Michael Stenstrom, UCLA, 2017). Through partnerships with universities, Moleaer has proven that nanobubbles are a chemical-free and cost-effective solution to increasing sustainable food production, restoring aquatic ecosystems, and improving natural resource recovery. Moleaer has deployed more than 700 nanobubble generators worldwide since 2016.
To learn more, visit: www.Moleaer.com
About nanobubbles
Nanobubbles are tiny bubbles, invisible to the naked eye and 2,500 times smaller than a single grain of table salt. Bubbles at this scale remain suspended in water for prolonged periods, enabling highly efficient oxygen transfer of dissolved gas in liquids. Nanobubbles also treat and reduce pathogens and contaminants of emerging concern as well as scour surfaces to break apart biofilm matrices (Shiroodi, S., Schwarz, M.H., Nitin, N. et al., Food Bioprocess Technol, 2021).
Media Contact
Juanita Gutiérrez
Financial Profiles
moleaerPR@finprofiles.com
310.622.8235